Premier League
Moyes: Man City not one of Premier League's all-time greats... yet
West Ham United manager David Moyes says Pep Guardiola's Manchester City side cannot be considered one of the all-time greats until they win silverware.
The former Barcelona and Bayern Munich boss' side have been outstanding in 2017-18 and have already opened up a 12-point lead over fourth-placed Arsenal with 13 wins and one draw.
Moyes, whose West Ham side are yet to win away from home in the league this campaign, faces the daunting challenge of trying to inflict City's first defeat of the season on Sunday at the Etihad Stadium.
And although he doesn't dispute the quality within the City ranks, the former Manchester United boss believes they have weaknesses that his side can exploit.
"I wouldn't say they've got a long way to go but what I would say is they've not done anything yet as far as they've not won the Premiership [sic] yet," Moyes, who was parachuted into the top job last month after Slaven Bilic's firing, told reporters.
"And I think there's been some great teams in the Premier League who have won it over the years. Maybe at the end people will say they are a great team but until that's done then you can't really say so.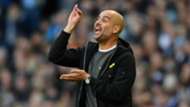 "I think there are ways to play against them, I think they've got weaknesses. They play very high up the pitch, which can leave space in behind them.
"But I think the coach [Guardiola] admits to his frailties and knows what the weaknesses are but tries to make it so difficult for the opposition to get to their weaknesses."
West Ham and Man City experienced wildly different emotions in their midweek round of Premier League matches.
The Hammers were thrashed 4-0 by fellow relegation fighters Everton, while Raheem Sterling gave City a last-second victory over Southampton