Manchester United
Mourinho: Don't say Man City won the title because we lost... it's not fair!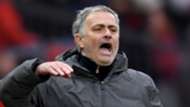 Jose Mourinho played down the significance of Manchester United's home surrender to West Brom on Sunday, signalling that Man City deserved to win the Premier League on their own merits. 
Having put title celebrations on ice at the Etihad Stadium thanks to a stunning 3-2 win over City last week, United folded at the hands of the relegation-threatened Baggies. 
Jay Rodriguez's goal at Old Trafford meant that City finally got their hands on the crown, leading their rivals by 16 points with five games to play.
But Mourinho argued after the final whistle that the title win was inevitable, and that the exact game in which the Premier League was secured mattered little. 
"I congratulated Man City face-to-face when I had the chance because I knew they would do it," the manager told reporters. 
"If I was them I would be very disappointed if people said they won because West Brom beat Man United. They won because they were the best team. They only lost two games.
"I won eight titles and I am not on the moon because I won against Manchester City.
"I saw lots of people in the moon because we won against City. You could see the difference in the attitude to players compared to last week."
"We deserve to be punished, but the defeat was too heavy."
The two games lost by Pep Guardiola's men compares favourably to the six times United have tasted defeat in the Premier League this season. 
Both West Brom and Huddersfield, two teams near the foot of the table, beat the Red Devils, while fellow relegation candidates Southampton and Stoke also took points off United. 
For Mourinho, that lack of consistency goes a long way to explaining the fate of this year's title. 
"I trust in my work. Eight titles. Three Premier League. Last not 20 years ago, it was three," he added.
"I know how to win. I believe in myself. You don't win titles with inconsistency. You need consistency at every level. The mental level, day by day."