Manchester United
Mourinho and Man United stars meet rescued Thai football team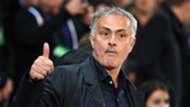 Manchester United players and manager Jose Mourinho put aside their preparations for Sunday's Premier League game against Everton to welcome the Wild Boars football team to the club's training ground.
Twelve members of the team, aged between 11 and 16, and their coach were rescued from a cave in Chiang Rai  in which they were trapped for over two weeks after it became flooded.
A three-day operation led by the Thai Navy Seals was undertaken to extract the children - a story which touched the hearts of football's vast fraternity.
Jose meets the Wild Boars

It's a pleasure to welcome the young Thai footballers who were rescued from a cave earlier this year. #MUFC pic.twitter.com/tcMVUzUJl6
— Manchester United (@ManUtd) October 27, 2018
United were among the first clubs to react to the successful rescue and promised to invite the team to Old Trafford during the new season.
The 19-time Premier League champions have followed through with their offer and on the eve of the clash with Everton have welcomed the survivors to the club's training base on Saturday.
Via the club's Twitter account, Mourinho is seen embracing with each member of the team before posing for photos with the group.
Welcome to #MUFC , Wild Boars! pic.twitter.com/lb3fLppDwW
— Manchester United (@ManUtd) October 27, 2018
A handful of players including Ander Herrera, Paul Pogba, Anthony Martial, Ashley Young, Andreas Pereira and Fred also met with players and accepting requests for photographs.
The team are understood to have been invited to attend the game against Everton on Sunday, as per United's offer in July.