Chelsea
Morata's finishing questioned by Shevchenko amid Chelsea struggles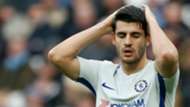 Alvaro Morata has been told by Andriy Shevchenko that he must work on his finishing in order to be a success at Chelsea.
The Blues paid Real Madrid £70 million for the Spain international during the summer transfer window in 2017 and were offered an immediate return on that investment.
Buoyed by regular football following a frustrating spell at Santiago Bernabeu, Morata opened the 2017-18 campaign with seven goals in eight appearances across all competitions.
He has managed just another five since then and is currently in the midst of a 10-game drought, with form and fitness issues having stunted his progress and raised concerns regarding his ability to justify a big-money price tag.
Shevchenko knows all about those challenges, having faced similar questions after struggling to produce his best during a three-year spell at Chelsea, and he told reporters on Morata: "I've seen a lot of him.
"He's had a lot of chances. I think you need to improve the finishing when you have chances.
"It's good when a striker has chances, it's very positive. You need this for scoring goals and helping the team to win."
Morata is not the only high-profile figure under pressure at Chelsea, with Antonio Conte enduring a tough season at the helm.
The Italian has seen his future past the summer called into question, but Shevchenko feels faith should be shown in a man who landed the Premier League title in his debut campaign.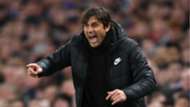 "I think he's a great manager, he's doing a fantastic job," added the legendary Ukrainian striker.
"It's a difficult moment for Chelsea but they still have a chance to qualify for the next step of the Champions League, the Barcelona game is still open.
"It's better if you ask him if he's happy. Of course, it all depends on the results. I still think he's doing a great job. It's been a very difficult season for Chelsea – the Champions League comes, last year it was only the Premier League and he won it.
"It was a great performance, the team were playing very well, then a couple of important players left, they had a couple of injuries.
"It's a different challenge in the moment for him. A team needs to have a result. You need to get some results and everything changes quickly."