Primera División
Miracle man Ramos the savior again as Zidane's rotation risk almost backfires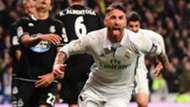 ---
COMMENT
---
High drama at the Santiago Bernabeu. Real Madrid found themselves 2-1 down at home to Deportivo La Coruna and looked like losing their impressive unbeaten record. And even after substitute Mariano made it 2-2, it seemed as if Zinedine Zidane's side would drop two valuable points.
Ramos the hero as Madrid beat Deportivo
Sergio Ramos, however, had other ideas. The Madrid captain, so often the hero right at the end for Los Blancos and most recently in the Clasico at Camp Nou, when he headed home with 11 seconds of normal time remaining, produced another divine intervention here.
With Luka Modric rested along with Cristiano Ronaldo and Karim Benzema ahead of the team's trip to Japan for the Club World Cup on Monday, this time it was Toni Kroos' corner that found Ramos - who else? - for the late leveller. With his head... how else?
The Bernabeu exploded and supporters shouted the name of their skipper in jubilant scenes. Forget Fergie time. That is long gone since the retirement of the former Manchester United manager whose sides often produced such epic turnarounds late in the game. Now there is a new name: Ramos time.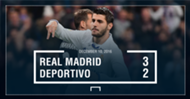 He did it in Lisbon to wrestle the Champions League crown from a disbelieving Atletico two years ago; he did it in Trondheim to break Sevilla's hearts and claim the UEFA Super Cup for Madrid in August; he did it Barcelona last weekend; and he did it again here.
Madrid set new 35-match unbeaten record
"I don't know how Ramos does it, but he always does it!" Alvaro Morata - who scored Madrid's opener with a super strike from outside the box - said after the game. "You think, 'can he do it again?' F**k, I can't believe it. He has done it again.
"I wish he could teach me, so that I could do it too. It's not technique, it's heart."
And Zidane said: "You can mark him, but he's intelligent. He moves really well, the ball is teletransported. He always knows where the ball will land. He's our captain - he's the soul of this team."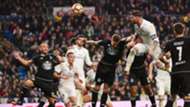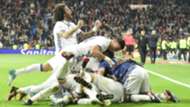 He is and Zidane has his skipper to thank once again after a poor performance which on another day would have seen Madrid lose their unbeaten record (now 35 games - the best in the club's history) and their six-point advantage over Barcelona at the top of the table.
Ronaldo rested for Deportivo clash
Madrid had plenty of talent in their team as the match got underway, but James Rodriguez, Isco and Marco Asensio - for all their quality - were unable to find the final ball in a frustrating first half and after Morata put Real ahead early in the second period, a mistake from Casemiro let Deportivo back in it.
The Galicians scored twice in two minutes as Madrid were caught napping at the back and it looked like Zidane had made too many unnecessary changes, with Ronaldo, Modric and Benzema all rested and Gareth Bale still sidelined while others, including Lucas and Marcelo, were left on the bench.
In the end, Zidane had to call upon Lucas, Mariano and Marcelo, ending the match with a three-man defence as his side poured forward. Amazingly, it worked, and just like last Saturday at Camp Nou, the coach owes his captain and former team-mate a huge pat on the back.