African All Stars
AC Milan 'must win derby' di Milano, says Franck Kessie
11:22 PM GMT+4
14/10/2017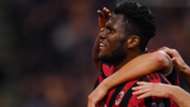 AC Milan midfielder Franck kessie has labelled the derby di Milano against archrivals Inter in an Italian Serie A game on Sunday as a 'must win' for his side.
The Cote d'Ivoire international joined Vincenzo Montella's squad on a two-year loan from Atalanta in the summer and has been a regular in the side.
However the former Cessena midfielder who will play in his first ever Milan-derby wants his team to pick up all three points against Luciano Spalletti's men while also urging them to be wary of Ivan Perisic ahead of the showdown.
"The derby must be won – it doesn't matter if you play well or badly, but it has to be won, by any means necessary," Kessie told Corriere della Sera.
"I am not remotely tired, as the more I work, the more I want to work. I keep my eyes on the prize.
"Milan called me to get back into the Champions League. This is a new challenge for me and I want to be up to it."