World Cup
Mexico players say wins 'not worth anything' if they can't advance from group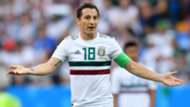 Mexico has experienced a dream start to the World Cup, but it will be worthless if it can't close the deal against Sweden on Wednesday, El Tri players said after a 2-1 win over South Korea.
A surprising 1-0 victory over Germany set the tone for Mexico's World Cup and the positive mood continued after a 2-1 triumph over the Asian nation Saturday. However, Germany's late goal against Sweden to secure a 2-1 win means everything is still in the balance in Group F. While Mexico tops the group with six points, a loss to Sweden combined with a Germany win against Korea would bring both European teams to six points as well, sending passage to the next round to a tiebreaker.
El Tri players are eager to avoid that scenario by beating Sweden and winning the group, which likely would present an easier rout to the elusive fifth game. Mexico hasn't progressed to the quarterfinals of any World Cup that took place on foreign soil.
"Again, it's not going to be worth anything if we end up staying in the round of 16. We have to go step by step and we really do want to have a historic World Cup for us," Mexico captain Andres Guardado said after the Korea win.
"This that just happened isn't what we came here to do," he continued. "We see ourselves as being capable of achieving a lot more, and we know what we have in terms of pressure - that we have this infamous fifth game on our back and we're trying to get not only to the fifth game but rather much farther. But, we're going game by game."
Just as Mexico avoided a potential let down against Korea after topping the reigning world champion, midfielder Miguel Layun said the focus would immediately shift to the final group contest. 
"We've got to be aware that this game against Sweden is going to be really important for us to look for qualification in the round of 16," he said. "We have to keep the team focused on what we want to achieve."
El Tri flew back to its Moscow base camp Saturday night and returns to training with a regeneration session Sunday morning.