Mexico
Projecting Mexico's squad for January friendly vs. Bosnia and Herzegovina
11:59 PM GMT+4
16/01/2018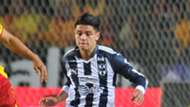 The World Cup still feels a long way away, especially as many of us in the United States crank up the heat and put on the sweaters in this frigid winter. The chill across the country also affected the Mexico national team, with winter weather in Texas forcing organizers to cancel a Tuesday news conference that El Tri manager Juan Carlos Osorio and director of national teams Dennis te Kloese were scheduled to attend.
We're left with little insight into who exactly will be on the synthetic field of the Alamodome in two weeks. Instead, we have only past performances, current inclinations and the little morsels Osorio has dropped in the past few months.
The reality is that as far away as the World Cup feels, January's friendly is one of around six matches Mexico will play before the big tournament begins. With March's friendlies taking on an out-sized importance, this could be the last real chance domestic-based players have to impress Osorio while wearing green.
Here Goal projects the squad Osorio will call in to attend training camps, get minutes in a match and ultimately have a chance to impress him enough to show they should be on the plane to Russia:
---
Goalkeepers
---

Jesus Corona (Cruz Azul), Rodolfo Cota (Chivas), Hugo Gonzalez (Monterrey)
Toluca goalkeeper Alfredo Talavera is included in our final World Cup roster projection, but the shot-stopper is yet to make his Liga MX return. Even if he's back on the field this weekend, January seems too soon for him to join the national team again. Jesus Corona, for all intents and purposes Mexico's No. 2 after Guillermo Ochoa, has done nothing to lose the starting job for a game like this month's.
Rodolfo Cota was the third goalkeeper at the Confederations Cup in Russia in 2018 and still could edge his way onto the plane if Talavera doesn't come back strong. He'll hope he gets to play 45 minutes against Bosnia to double his cap total. He also needs to prove he could be valuable in the locker room as well as on the field in emergency situations as the third goalkeeper.
Hugo Gonzalez of Monterrey was called in for last year's January friendly against Iceland and his excellent 2017 is a strong case that he should spend more time with the national team. However, how serious the injury that knocked him out of Sunday's Rayados victory over Veracruz remains to be seen. A long-term absence could open the door for veteran Moises Munoz to make a surprise return.
---
Defenders
---

Jesus Gallardo (Pumas), Nestor Araujo (Santos Laguna), Edson Alvarez (America), Hugo Ayala (Tigres), Jair Pereira (Chivas), Hedgardo Marin (Chivas), Oswaldo Alanis (Chivas), Cesar Montes (Monterrey) 
Osorio will want Jesus Gallardo to get as many minutes at left back as possible with the winger/fullback currently playing further forward for Pumas. Nestor Araujo may start for El Tri at the World Cup, so his spot here also is not in question. Edson Alvarez was pressed into fullback duty after Paul Aguilar pulled out of Club America's match against Pachuca on Saturday. The coaching staff has to like that as well. With this side looking not totally unlike the Gold Cup roster, and with the game taking place in the same building Alvarez scored in against Curacao in summer 2017, he could reprise his right-back role.
After that, it's a bunch of the big center backs Osorio likes, including Oswaldo Alanis. With his dispute with Chivas over and his return to the first division coming soon, there's no reason to think Osorio wouldn't call in a player who he was comfortable starting against some of Europe's top teams in the Confederations Cup.
Pachuca right back Raul Lopez is a frustrating player who is struggling to win a starting job with his club. We've left him off this projection, but he could provide some depth at outside back or even on the wing if Osorio and his staff are looking to mix things up.
---
Midfielders
---

Jonathan Gonzalez (Monterrey), Jonathan dos Santos (LA Galaxy), Victor Guzman (Pachuca), Javier Aquino (Tigres), Jesus Duenas (Tigres), Orbelin Pineda (Chivas) 
Jonathan Gonzalez will be part of the call-up if FIFA approves his one-time switch. Why else would you meet with the 18-year-old and try to get him to switch now? Gonzalez is by no means a lock for the World Cup, but the coaching staff definitely wants to see what he can do and see how he plays when he's given a role different from the one he fills at Monterrey.
The issue may be finding someone for the central midfield position, though Jonathan dos Santos can do the job in a pinch as could Chivas' Orbelin Pineda, who is trying to fight his way back in the picture for 2018.
On the attacking portion, Victor Guzman's impressive Apertura in which he scored eight goals is enough to earn him a spot on January's roster. Javier Aquino, too, is likely to take part. His teammate Jurgen Damm's injuries from firework burns combined with an already decreasing amount of playing time could mean just one Tigres winger makes the squad.
By far our boldest prediction is not having Erick Gutierrez on this list. The Tuzos midfielder had an ill-timed injury in December and even after returning to the field he's struggling with Pachuca. Don't be surprised to see him in the group, but it wouldn't be a shock to see him omitted. That would be a signal for 'Guti' to focus on his club game before trying to make the 2022 squad.
---
Forwards
---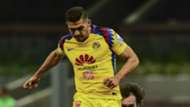 Henry Martin (Club America), Oribe Peralta (Club America), Giovani dos Santos (LA Galaxy), Carlos Vela (LAFC), Alan Pulido (Chivas), Javier Lopez (Chivas)
Osorio mentioned Henry Martin as an option recently after the forward's hot start with Club America. The pacy striker has become a cause celebre for some pundits, who are lobbying for the 25-year-old to get a real shot at starting with Las Aguilas. It may not matter for Martin's national team future. A World Cup call-up is unlikely but Osorio has to round out the roster. The Merida native's first call-up since Tuca Ferretti's stint as interim manager looks to be in the works.
He should be joined by club teammate Oribe Peralta, who remains the best domestic-based Mexican striker. Barring injury or call-up drama, Peralta's appearance is one of the most likely along with Corona and Araujo being on the squad. MLS duo Giovani dos Santos and Carlos Vela just will be settling into preseason training with their clubs but each will want to solidify their position on the top team - positions that may not be as certain as they'd hope. Going to San Antonio and performing well could be a big help to their case for making it to Russia.
Pulido and Lopez are in the same boat as Martin. Lopez has started the season well with Chivas and despite having little history with Osorio or the national team is a more intriguing option than players who have come into the national team and failed to impress like Erick "Cubo" Torres or Angel Sepulveda.