Mexico U20 v Canada U20
Mexico advances, eliminates Canada in CONCACAF U-20 Championship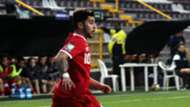 It took nearly the entire first half, but Mexico's Under-20 side figured out how to unlock a resolute Canadian defense in a 5-0 win Monday night at the CONCACAF U-20 Championship.
Goals by Francisco Cordova, Claudio Zamudio and Eduardo Aguirre and a brace by Ronaldo Cisneros secured the Group A victory for the Mexicans, who are now assured a place in the next round of the continental tournament.
Canada came out happy to concede possession and determined to defend as Mexico found it difficult to create anywhere in the middle of the pitch. That led to a frustrating opening half-hour for the Mexicans, who had to push the ball out to the wings in order to attain any sort of penetration into the final third.
Five things we learned from Liga MX Round 7
While the Canadian tactics stifled the favored Mexicans for most of the first half, eventually the wide play became too much to handle, and Cordova broke the deadlock in the 36th minute with a diving header after a cross was swung in from the left flank.
The goal boosted the Mexican attack, and just four minutes later Cisneros made a hard run to the far post to meet a ball whipped in from the right-hand side. Cisneros had nearly the entire net to aim for, and his volley from inside the 6-yard box easily evaded a diving Thomas Hasal to give Mexico the two-goal lead.
Down 2-0 after the halftime break, Canada came out in a more aggressive stance to start the final 45-minute period. It didn't last long, however, and Mexico eventually reclaimed the possession battle and reverted to the same tactics that found success to close the first half.
Cisnero was the beneficiary of his team's renewed efforts to exploit the wings, as he pounced on a rebound to score his second of the game in the 65th minute following a cross from the left flank.
The Canadians didn't sit back even while down three, and a couple of long-range efforts had to be well-saved by the Mexican goalkeeper. Canada's desperate push for a goal backfired in the 81st minute, however, as Mexico countered with all but one Canadian defender upfield, ultimately allowing Zamudio to slide the ball home from in close to finish a 2v1 attack.
Aguirre tallied the night's fifth and final goal just before the final whistle off another strong run down the left flank by Kevin Lara, who crossed the ball to his onrushing teammate at the top of the 18-yard box for a low, hard strike past Hasal.
The lopsided victory gives Mexico the lead in Group A on goal difference, with a meeting with second place Honduras on Thursday to decide the group winner.