World Cup
Messi wished a happy birthday by 'happiest woman in the world' Antonella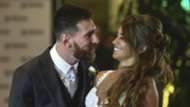 Antonella Roccuzzo may not be in Russia to wish husband Lionel Messi a happy birthday, but she took to Instagram in order to pay tribute to the Argentina star. 
Reports in Argentina in recent weeks have suggested that Antonella's absence from the World Cup owes to a distancing between the couple. 
Antonella is currently in the pair's hometown of Rosario with children Thiago, Mateo and Ciro while Messi tries to steer an underwhelming Albiceleste into the last 16. 
But as the Barcelona wizard turns 31, his wife moved to dispel those rumours with a heartfelt message accompanied by a picture of the two together. 
"Happy birthday my love. We love you so much!" Antonella wrote on Instagram on Sunday. 
"Thank you for making me the happiest woman in the world and for the family we have made that is our greatest treasure. 
"I wish you happiness now and forever my love." 
While Messi has remained tight-lipped over Antonella's absence, it would owe more to the recent birth of the couple's third son, Ciro, who is just three months old. 
Argentine model and TV personality Cinthia Fernandez confirmed in a recent interview she had been told by Antonella that was indeed the case, and that talk of problems in the Messi family are wide of the mark. 
"She was annoyed by everything that was said, she did not go to Russia because that is what [the couple] agreed," Fernandez explained to Involucrados. 
"Her words were: 'I didn't go because I have very young kids and that was the agreement. I want to enjoy my family because I won't see them again until December.'
"That says it all and shuts up all those who speculate and want to make Messi hurt."
Birthday boy Messi and Argentina will be back in action on Tuesday, where they will need to beat Nigeria to stand any chance of reaching the World Cup knockout stages.