Arsenal
Mertesacker admits players must shoulder blame for Wenger's Arsenal exit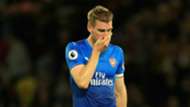 Per Mertesacker admits the Arsenal squad are "in one way responsible" for Arsene Wenger's decision to step down as manager.
The long-serving Frenchman has announced that he will be leaving a post he has occupied for 22 years at the end of the current campaign.
Pressure has been building on him for some time, with Wenger branding the protests against his reign "hurtful" in the wake of Sunday's 4-1 victory over West Ham.
He has shouldered much of the blame for regression at Emirates Stadium, with Arsenal no longer top-four regulars, but Mertesacker concedes that under-performing players must accept that they have let an iconic presence in north London down.
The German defender told reporters in his role as club captain after the Gunners' first outing since Wenger's revelation: "The message he gave to the team was that we want to win every single game and leave in style.
"We, as players, gave immediate feedback that we feel the responsibility to fight for him every time we step on the field.
"We had an atmosphere that 'we want to do it for you to send you off in the best possible way'.
"It is not about a single person, this club is built on a lot of people who worked here for a long time and he was one of those. His story is unique so we want to give him the best possible send off because in one way we are responsible for the situation as well."
While he is preparing to sever ties with Arsenal, Wenger has insisted that he is "not tired" and that he intends to remain in football in some capacity.
Mertesacker believes the 68-year-old will take a prominent role somewhere in 2018-19, with there still plenty of "power" left in a vastly-experienced tactician.
The World Cup winner added on Wenger's shock announcement: "We were surprised, first of all, and then emotional and sad.
"You can feel that he has got a lot left in him in terms of the power he gave to the team.
"He has power in himself. He is ready to step up and stand in front of the media every single time we cannot produce a performance."