Tanzania
Mayanga: I have a lot of offers on the table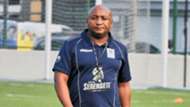 Tanzania National Football Team, Taifa Stars Head Coach Salum Mayanga has revealed that he has been offered a lot of jobs inside and outside the country but is yet to decide on his next move.
Mayanga has entered the final months of his contract with Taifa Stars and there is currently no discussions over a new deal.
Speaking to Goal, Mayanga revealed that he has a lot of offers on the table but he will not rush to decide until his future with the national team has been sorted out.
"I am the national team Coach at the moment and I will not decide on my next move before knowing about my future here, I have a lot of offers but I will make a decision at a later stage" said Mayanga.
Kenyan outfit AFC Leopard is one of the clubs which is reportedly keen on Mayanga's signature to be their Head Coach for next season to replace the departing Dennis Kitambi.
Since he took over as Taifa Stars Coach, Mayanga has led the team in 16 games where he has won seven, drawn seven and lost twice.