Premier League
Silva sacked as Watford blame Everton approach for Premier League slump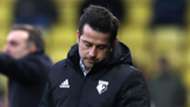 Watford have announced that they have parted company with manager Marco Silva.
The 40-year-old former Hull City boss had been regarded as one of the outstanding managers of the first half of the Premier League season and was heavily courted by Everton.
However, his side have since endured a dramatic slump that has seen them drop to 10th, just five points above the relegation zone.
On Saturday, the Hornets went tamely down 2-0 to Leicester City, although the Portuguese insisted that he did not fear for his position after just one win in eight Premier League matches. 
"My position? I don't lose my focus from the situation," Silva said. "My job is to work hard, together with my players, to improve. The board know my opinion about everything. It's not the best moment but the Premier League is 38 games, not only the last 10."
Watford are pinning the blame of their side's decline on Everton's interest in their manager.
"The club is convinced the appointment of Silva was the right one and had it not been for the unwarranted approach by a Premier League rival for his services we would have continued to prosper under his leadership," a statement released by the club reads.
"The catalyst for this decision is that unwarranted approach, something which the Board believes has seen a significant deterioration in both focus and results to the point where the long-term future of Watford FC has been jeopardised.
"For the security and success of the football club, the board believes it has to make a change. 
"The club will seek to make a swift appointment and there will be no further comment until that appointment has been made."
Silva, whose work with Hull last season was commended despite being unable to save the club from relegation, oversaw 26 matches for Watford, winning eight and suffering 13 defeats. At their highest point this season, they were fourth in the standings.
Their first test without him is an FA Cup trip to Southampton next weekend.