Real Madrid
Marcelo taking every opportunity to remind Barca and Co. of Madrid's achievements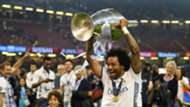 Marcelo is not about to let anybody forget about Real Madrid's double-winning achievements in 2016-17.
The Blancos restored domestic dominance in Spain by wresting the Liga title away from arch-rivals Barcelona.
Benzema: Ronaldo isn't selfish
They then made history by becoming the first side to successfully defend the Champions League crown in its current format.
After that success, Marcelo took the opportunity to build on his collection of body art, with another entry added to a tattoo on his leg which offers a constant reminder of the success he and Madrid have enjoyed over recent years.
A post shared by Marcelo Vieira Jr. (@marcelotwelve) on Jun 10, 2017 at 7:04am PDT
Two trophies in the bag, sun out and a summer break to relax by the pool, life is pretty sweet for Marcelo right now.
He will, however, be back for more in 2017-18, along with the rest of his team-mates in the Spanish capital.
Having become top dogs again in La Liga, and cementing their standing at the top of the European game, Madrid are there to be shot at next season.
They are always a prized scalp, even for Barca, but their exploits over recent years have made them an even tougher nut to crack – as Marcelo is only too happy to point out.