Premier League
Dominating Man City down Man Utd to race clear - Review, brought to you by Football Republic
12:33 PM GMT+4
11/12/2017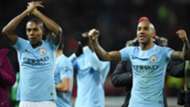 Old Trafford, the Theatre of Dreams, could well and truly have played out the season-defining game on Sunday evening. The all-conquering Manchester City defeated hosts Manchester United 2-1 to stretch the lead at the top of the table to a massive 11 points.
With the win, City's record in this season currently stands at 15 wins after 16 games and is the only club still unbeaten in England this term. And it's with that same confidence that Pep Guardiola's team entered the match.
It was expected for City to dominate possession – they recorded 65 percent of it by the end of the match. United meanwhile were pushed back, but still were comfortable in defence, as Marcos Rojo and Chris Smalling made key interceptions and blocks. In the 42nd minute, City got the ball past the defence, but Leroy Sane's close range strike was brilliantly saved by David De Gea. The resulting corner however, gave the visitors their first goal.
The set-piece delivery ricocheted off Romelu Lukaku, giving David Silva an open shot at goal.
City looked set to build on 1-0 lead, till Nicolas Otamendi and Fabian Delph failed to read a seemingly harmless diagonal cross, and Marcus Rashford stepped up to slot home the equalizer in stoppage time.
The second half began with both teams vying heavily, though City were still better at keeping the ball. It was at another set-piece through which the leaders got the winner. Lukaku tracked back well to clear Kevin De Bruyne's free-kick, but the Belgian's clearance was mishit and rebounded off Smalling, leaving the ball clear for Otamendi to strike from close range.
United did start pushing for a second equalizer, but there was a clear void in midfield that the suspended Paul Pogba had left behind. Without the Frenchman, United had no pivot in midfield through which they could link play, an area in which De Bruyne and Silva flourished for City. Instead it was Nemanja Matic, a defensive midfielder, who was made to work through play in the center.
The hosts however, still had a few chances towards the end. In the last few minutes of regulation time, Lukaku was in position to strike at goal, only for goalkeeper Ederson Moraes to save with his face. The Brazilian custodian was back on his feet immediately to block Juan Mata's close range follow-up. Thereon it was just a matter of City doing what they do best, hold onto the ball.
The win now puts City on a 14-game unbeaten run. But with 11 points over second placed United, Guardiola's still tight-lipped about the season being over. "A title can't be decided in December, but it's good to have an 11 point lead," he said after the match.