Manchester City v Liverpool
'Manchester City have to show some balls' - Lampard looking for response against Liverpool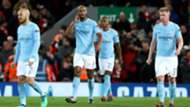 Manchester City have been warned by Frank Lampard that they are going to have to "show some balls" in a Champions League quarter-final second leg with Liverpool.
Pep Guardiola's side will welcome the Reds to the Etihad Stadium on Tuesday fully aware that they have a continental mountain to climb.
A 3-0 first leg defeat has left the Premier League leaders with it all to do if their European adventure is to be extended into the last four, with previously impeccable form deserting them at a crucial time.
Defeat at Anfield was followed a stunning derby reversal against Manchester United – with the Red Devils battling back from two goals down to prevail 3-2 – and Lampard is looking for a positive response from City to a rare "bad patch".
The former Blues midfielder told the Evening Standard: "In many ways, this second leg could just come down to showing some balls.
"Manchester City have to show balls by playing to score a lot of goals and Liverpool have to show it by defending for 90 minutes against the best team in England this year.
"I have played in these knife-edge Champions League games knowing an away goal almost finishes you off and it's not nice. It is not easy to play in, it's not easy for the home supporters in the stadium. You can dominate and then that away goal knocks you again."
Lampard added: "People should be careful to write off City. All of their focus is on this now - the Premier League title will be won sooner or later.
"They will have massive determination - not just because of what happened in the first leg but also due to their 3-2 defeat to Manchester United at the weekend.
"Pep Guardiola's side are not used to going through a bad patch, they hadn't lost two games in a row all season. This is not ideal.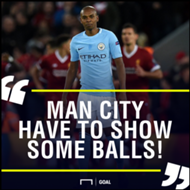 "If they'd won the League beating United by four or five goals, as looked likely at one stage, that would have really set them up for the Liverpool game.
"But it's not like they're a team in crisis, they can turn most results around - 3-0 is not out of reach."
Liverpool, though, know that one away goal for them will leave City needing to net at least five times, and Lampard acknowledges that there is much to encourage the Reds.
He added: "The past two Manchester City games did highlight some weaknesses in defence.
"They have not been exposed for most of the season but as a back four they can be pulled apart."