José Mourinho
Man Utd moulded in Mourinho's image - Wenger sees 'power' shift at Old Trafford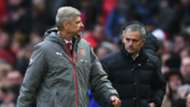 Manchester United now boast the "power" commonly associated with Jose Mourinho teams, says Arsenal boss Arsene Wenger.
The Portuguese is into his second season at the Old Trafford helm, having been charged with the task of rebuilding in the wake of forgettable stints from David Moyes and Louis van Gaal.
He made an immediate impact with the Red Devils, collecting three trophies in his debut campaign, and now has United back in the Premier League title picture and progressing positively in the Champions League.
Wenger concedes that his arch-rivals now have more of a Mourinho look about them, with an old adversary famed for building around a strong spine and making his teams difficult to bear.
"Yes, certainly he has had time to put his print on the team, he is now in his second year," Wenger told reporters ahead of a meeting with United at Emirates Stadium on Saturday.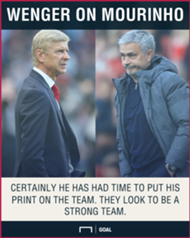 "They look to be a strong team. They have power, they have a lot of power up front. Every player has power. Romelu Lukaku, now [Zlatan] Ibrahimovic is back and you can't say this guy lacks power; Marcus Rashford, [Anthony] Martial.
"They all have power, so our defensive performance will be important when we don't have the ball against them. Overall I believe that they are a dangerous side, you look at their players and they can be dangerous everywhere."
While wary of the threat Mourinho's side will pose his own, Wenger considers Arsenal to be in good shape ahead of a crunch clash.
The Gunners have won 12 successive Premier League games on home soil to climb back into the top four and will be full of confidence when welcoming United to north London.
"It's important that you can win and the fact that you have quite a long history of winning games helps," Wenger added.
"But what helps even more is the performance of the day, so I believe the history helps you to go into a good psychological condition, but to win the game you need to turn up with the performance. That's why it's important that we focus on that."