PSL
Mamelodi Sundowns defender Rivaldo Coetzee reportedly nabbed for speeding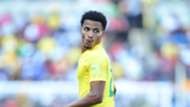 Newly-signed Mamelodi Sundowns defender Rivaldo Coetzee nearly spent a night behind bars after he was reportedly arrested for speeding on the N1 highway on Thursday night. 
According to his new club, the 20-year-old was rushing to the Goodwood Police Station in Cape Town to certify his documents ahead of the reported R10 million move to Chloorkop when he clocked 198km/h. 
Eric Ntabazalila, who is the Regional Communications Manager for the National Prosecuting Authority confirmed that the charges against Coetzee have not been withdrawn. 
The defender made a brief appearance at the Goodwood Magistrate Court on Friday, where the case was postponed to September 5.  
"Please note that the charges against the accused were not withdrawn. He appeared in court, and the case was postponed to 5th September 2017. The accused intends to make representations to the DPP (Directorate for Public Prosecutions)," Ntabazalila told Independed Media. 
Sundowns media officer Thulani Thuswa said the club is aware of the incident, but he revealed that they will support Coetzee.  
"We are aware of the incident as the player's agency contacted us. The player was on his way to certify papers at the police station. He is now with Sundowns and we will support him," he said. 
document.write("");