Malaysia Cup
Malaysia Cup draw - who, what, when & how
12:08 PM GMT+4
26/07/2018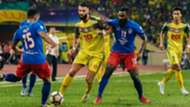 The 2018 Malaysia Cup will be played between August 4 and October 27 and it will involved 16 teams from the Super League and Premier League. The top 11 teams in the Super League qualify for the competition with five more teams joining from the second tier, which is the Premier League.
That means Johor Darul Ta'zim, Perak, Terengganu, Pahang, Kedah, PKNS FC, Melaka United, Kuala Lumpur, PKNP FC and Selangor are already qualified. Which leaves just one spot to fight for between Kelantan and Negeri Sembilan in the final league fixture of the season this weekend.
Meanwhile Felda United, MISC-MIFA, Felcra FC and Sabah have all qualified by virtue of being the highest finishers in the Premier League. Johor Darul Ta'zim II are in fifth spot but are not elligible to participate in the Malaysia Cup, hence PDRM will take their spot.
The draw will be done on Monday July 30 at 3:30pm where teams will be divided into four groups based on their league finishing. The top four teams in the Super League are in Pot 1 and will be separated into four different groups. 
The 5th to 8th place teams in the Super League will go into Pot 2 while Felda will be joined by the 9th to 11th placed teams from the Super League in Pot 3. The remaining teams from the Premier League will all be in Pot 4.
Because the Premier League only allowed four import players, just like in the FA Cup, the Malaysia Cup will also put a restriction on the Super League sides. However, those teams are still allowed to use different combination of four from the five import players from match to match.
Fixture schedule as follows:
MD1: August 4-5
MD2: August 10-12
MD3: August 17-19
MD4: August 24-26
MD5: August 31-September 2
MD6: September 14-16
QF1: September 21-23
QF2: September 28-30
SF1: October 5-7
SF2: October 19-21
Final: October 27