Transfers
Mahrez has 'nothing on the table' amid Arsenal and Barcelona transfer talk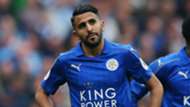 Riyad Mahrez wants out of Leicester but has "nothing on the table" as he waits for the likes of Arsenal and Barcelona to make a move.
The Algeria international won the PFA Player of the Year award in 2015-16 as he helped to inspire a remarkable Premier League title triumph with the Foxes.
His standards dipped slightly in the defence of that crown, but several big clubs have retained an interest in his services and Mahrez has informed Leicester of his desire to move on.
Wenger admits: 'I like Mahrez'
Arsenal manager Arsene Wenger has admitted to liking the 26-year-old winger, while Barca have been linked with an approach for some time, but no official offers have been made as yet.
Mahrez told reporters after winning the Algerian Golden Ball: "It's an honour to receive compliments like this from such a big manager [Wenger] in world football.
"But there's a big difference between an offer and speculation, so there is nothing on the table at the moment."
Mahrez went on to reiterate his desire to take on a new challenge, having agreed with Leicester that he would be allowed to leave if he stayed for a 2016-17 campaign which included a run through to the quarter-finals of the Champions League.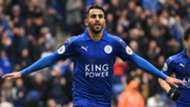 He said: "The chairman and I agreed that I would stay another year at the club and that he would let me leave at the end of the season.
"I think it would be the right time for me to leave, I have experienced everything at this football club.
Mahrez wants to leave Leicester
"I went from the Championship to the Premier League, I stayed up with the team the next season, we won the Premier League, I won the PFA player of the year award, I played the Champions League, so we did something quite exceptional."
Mahrez netted 18 times in the 2015-16 campaign, but managed only 10 this season.
Four of those efforts did, however, come in Champions League competition, proving that he remains a man for the big occasion.