Cristiano Ronaldo
Madrid lucky to have Ronaldo but Di Stefano comparisons are pointless - Sanchis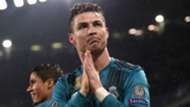 Real Madrid are 'lucky' to have Cristiano Ronaldo, but comparisons to the legendary Alfredo di Stefano are 'pointless', says Manolo Sanchis.
Ronaldo has scored 446 goals in 431 appearances for Madrid and has won the Champions League three times during his Santiago Bernabeu career.
His stunning exploits have prompted much debate about where the Portuguese ranks among the pantheon of great players to have represented Madrid.
He has been labelled as the 'great heir' to the late Di Stefano by club president Florentino Perez, but Sanchis does not think comparisons should be drawn between Ronaldo and the players of the past, saying instead that each player's merits should be appreciated individually. 
"Is Cristiano reaching Di Stefano's importance in Real's history? Comparisons are pointless," Sanchis told Goal.
"I had very professional team-mates in 18 seasons as a player. And the ones I'm seeing now as a spectator, and the ones I saw when I was little, too.
"Imagine how many players I have seen. And now we're thinking that one is going to be better than another – why?
"It is clear that Ronaldo is among the greatest in club history and in this sport. But why say if one player is better or worse than Alfredo Di Stefano, or better or worse than Emilio Butragueno, Amancio Amaro?
"Everyone has their space, and nobody can take away the space of others."
Nevertheless, Sanchis praised Ronaldo for his brilliant overhead-kick goal against Juventus in the first leg of the Champions League quarter-final last week.
"Firstly, that technique at that height to kick the ball by a player who is so big and so coordinated makes the goal something special," the 52-year-old said. 
"But it's also about where and when it happens: against Juventus, against Buffon, and with Juventus pushing and losing 0-1 on the scoreboard.
"It's an important goal at an important moment, and in the best place to get it.
"Real Madrid got a great result and it was the demonstration of how a player is capable of influencing what happens in a match on his own. In Madrid, we are lucky to have Cristiano Ronaldo with us."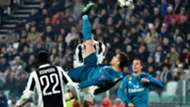 Madrid are chasing a third straight Champions League title, and are on the verge of a semi-final berth this year after winning 3-0 at Juventus. 
In the round of 16 the Blancos took down Paris Saint-Germain, a club who have failed to achieve European success in recent seasons despite massive investment from their owners. 
And Sanchis, who is in third place in the all-time Madrid appearances list with 710, says new owners who simply expect money to buy victories are misguided. 
"How to explain Real Madrid's DNA in the Champions League? It's something that new investors in this sport, people who come from being very successful in other business activities, do not understand properly," he said.
"They are used to being able to buy practically everything with money. But not this.
"You cannot buy the 116 years of history that Real Madrid has, nor the legacy that so many superb players have left."