Chelsea
Luiz in thinly-veiled Conte dig as he talks up Chelsea spirit under 'great manager' Sarri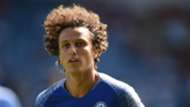 David Luiz has aimed a thinly-veiled dig at former Chelsea boss Antonio Conte by talking up the "great philosophy and amazing spirit" under "great manager" Maurizio Sarri.
It appeared at one stage last season as though the Brazilian defender's days at Stamford Bridge may be numbered.
He has admitted as much, with a strained relationship with former Blues boss Conte reaching breaking point during a lengthy injury struggle.
Luiz has, however, come back into favour under Sarri following the Italian's summer arrival, with the 31-year-old enjoying his football again in west London.
He told Chelsea's official website: "It's always great to play football, especially after I was out for six or seven months.
"I'm enjoying it a lot, we have a great philosophy, a great manager and an amazing spirit in the team so it's great to be playing.
"We are trying to get points at the beginning because as everybody knows it's a new system and a new philosophy so we are trying to do our best.
"It's not easy to win points in the Premier League so if we can get them now, at the beginning of the season, when we are adapted to the style it's going to be even better for us."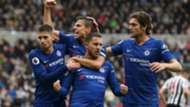 Chelsea have opened the 2018-19 campaign by taking maximum points from their opening three Premier League fixtures.
Their most recent success came at Newcastle on Sunday, with Sarri's side battling their way to a hard-fought 2-1 win at St James' Park.
Luiz said of that contest, which saw the Blues dominate possession but struggle to create chances: "It's always difficult to play against a line of five, and then a line of four, playing a low block.
"We were trying to move the ball as quickly as possible and trying to find some gaps to score but we dominated the game and we deserved to win.
"It wasn't easy, especially in the first half. In the second half we started to create more chances because they became a bit tired and spaces started to open for us so that was good.
"They were trying to kick the ball long, win the second balls and create superiority in the box. It was a typical Premier League game. We went 1-0 up and then they scored to make it 1-1 but we were mature enough to be calm and try to score another goal, which is what we did, so that's good.
"We played another great game, it's always difficult to get points at Newcastle but we controlled the game."