World Cup
Loss of concentration cost Nigeria defeat vs. Argentina, says Garba Lawal
11:26 PM GMT+4
27/06/2018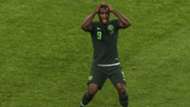 Nigeria's defeat to Argentina in their final group D fixture was due to loss of concentration in the closing stages of the encounter at the Saint Petersburg Stadium, according to former international Garba Lawal.
The West Africans ended their adventure at the 2018 Fifa World Cup after a 2-1 defeat to Jorge Sampaoli's men as they finished the third best team in their group, behind Croatia and Argentina.
Marcos Rojo's 86th-minute strike turned the table in favour of the South Americans who registered their first win in Russia and the former winger has blamed Gernot Rohr's men for losing focus, and also, for not being clinical when it mattered most.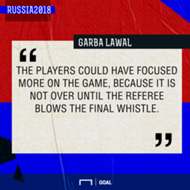 "We couldn't hold on to the game, because we lost concentration. With six minutes left, the players should have talked to themselves to focus and concentrate but at the end, we allowed Argentina take the day," Lawal told Goal.
"Argentina were smarter than our players. The players could have focused more on the game, because it is not over until the referee blows the final whistle.
"We had our chances and we didn't make use of them so we don't need to talk about the referee again. We had all the opportunities to bury the game but we did not, at the end of the day we paid the price."
There were protests for a second penalty after Ahmed Musa's cross struck Rojo's arm with captain John Obi Mikel claiming that it was a clear penalty.
But the 44-year-old who played for Nigeria at the 1998 and 2002 World Cup tournaments agreed with referee Cuneyt Cakir's decision to turn down the penalty call.
"The ball touched the head first before it touched the hand, so it is not a penalty. At the beginning it touched Rojo's head, after which it touched his hand," he added.
"When the ball touched the head first then the hand, it is no penalty. That's what the law says. But if he had carried the ball with his leg then the hand, it is a penalty."
"The ball came back to Ighalo and he was alone, he could have cushioned the ball and scored the goal."