African All Stars
Liverpool's Jurgen Klopp 'not for one second worried' about Salah's form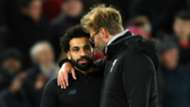 Jurgen Klopp says that he 'was not for one second worried' about Mohamed Salah's form.
And, quickly, the Liverpool boss pointed out that both player and club must learn to deal with heightened expectation on the back of the 26-year-old's surreal form from last season.
Salah's recent feats, with the virtuoso showing against Bournemouth most recent, are reawakening hopes of the Egypt international matching his 2017-18 level where he netted 41 goals for the Reds.
The former Roma winger had a mixed start to the season, but the German tactician has disclosed that it was never a source of worry.
"I was not for one second worried," Klopp said. "I don't know what was written, but we have to develop always and to confirm or to prove again a 41-goal season.
"Everybody would kind of struggle a little bit. How would you prove it? If you score in the first five games ten goals, everybody would say 'It could happen again' but if you score 39 it would be 'Yeah, but it's not 41.' So we have all have to learn to deal with it and he has as well.
"He has never had a season like that, and if he wants to have the season again he has to do it step by step. That's what we do and that's what he is doing."
The treble in Liverpool's 4-0 win at Dean Court put Salah atop the Premier League's goalscoring chart, levelled with Arsenal's Pierre-Emerick Aubameyang.
He is in line to make his 23rd appearance this season in the Reds' make or break Champions League encounter against Napoli in midweek.