Primera División
Liverpool target Williams sends goalkeeper to hospital with shot to the face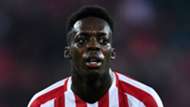 Athletic Bilbao goalkeeper Alex Remiro had to be treated for head trauma on Wednesday after a powerful shot from attacker Inaki Williams struck him in the face during a training session.
RUMOURS: Liverpool want Inaki Williams
Williams' effort cannoned off the shot-stopper's face, leaving 21-year-old Remiro in a state of semi-consciousness as he fell to the grass.
La ambulancia se lleva a Remiro en Lezama tras el balonazo que ha recibido en la cabeza pic.twitter.com/84t7XJhEJg

— Ramón Hernández (@RamonHdezRNE) March 15, 2017
Athletic's medical staff acted quickly, but an ambulance was called to ensure the young custodian had not suffered any potentially life-threatening effects.
The club later informed the press that Remiro is well, though the player has been transported to hospital to fully rule out any lingering injuries.
"Alejandro Remiro [suffered] head trauma during the course of training today on Wednesday, March 15," a statement on the club's official site reads.
"He was awake and has been transferred to a health centre where additional tests will be carried out."