Barcelona
'Lion Messi can tear your head off' - Barcelona boss Valverde warned against upsetting star player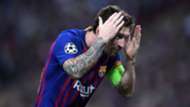 Sevilla's sporting director Joaquin Caparros has warned that the worst anyone can do is "piss off" Lionel Messi.
Barcelona coach Ernesto Valverde has come in for criticism after a slow start to the season, one which puts the team behind leaders Sevilla by one point going into their clash at Camp Nou this weekend.
The biggest talking point of the campaign so far came in a 1-1 draw with Athletic last month , as the coach chose to bench Messi.
It was a decision that came in for huge criticism , particularly after the Argentine came on as a substitute to assist his team's equalising goal, scored by Munir El-Haddadi.
And given that the pressure is already on Valverde as his team have not been at their usual high standard, Caparros believes that him getting on the wrong side of his star man is not the wisest idea.
"Messi is not to be pissed off," Caparros told Radio Marca. "Messi is like a lion. A lion has to be caressed and you can put your hand in his mouth and he will not bite.
"But if you touch his claws, a lion can tear your head off."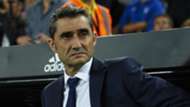 Messi's influence at Barcelona has been well-documented in the past, with reports of a fall-out with former coach Luis Enrique just one example .
The five-time Ballon d'Or winner is also rumoured to have a similar authority within the Argentina national team, whereby big names are believed to be omitted from squads in favour of players who Messi works better with .
Although the player himself regularly denies such claims, it goes without saying that he is certainly an influential and key figure for both club and country whose happiness will be a top priority for the powers above.
Caparros, however, is clearly aware of the power Messi has both on and off the pitch, but is hoping Sevilla can contain him to maintain their superb start as he admits that they do have their eyes on La Liga's title - even at this early stage.
"Our goal is to be in the Champions League with the players we have, with hungry kids," he said. "We have to be among the top four but we will never give up anything."