Tanzania Prisons
Ligi Kuu match postponed due to heavy rains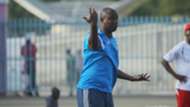 The Ligi Kuu clash between Tanzania Prison with Mbao FC has been postponed in the 50th minute due to heavy rain in Mbeya capital.
Tanzania Prison had a goal scored by Mohamed Rashid in the first half.
Elias Mwanjala who officiated the match said that both teams agreed to postpone the game until Sunday morning in order to see off the remaining 40 minutes.
The weather condition was very cloudy as the match was progressing and later on turned to be heavy rain and the pitch was filled with ponds of water that did not allow the ball to bounce or move well.