African All Stars
Leicester City's Kelechi Iheanacho admits Peterborough United will be tough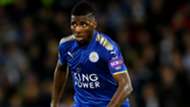 Leicester City's Kelechi Iheanacho has acknowledged that their opponent in Saturday's FA Cup tie Peterborough United will be tough.
The 21-year-old scored twice against Fleetwood Town to help Claude Puel's side reach this stage of the competition.
Though the former Manchester City forward pre-empted that their opponent will play well in the tie, he has however charged the Foxes to focus on their own performance.
"I don't know too much but I think they're going to be a great team for them to be in the FA Cup," Iheanacho told club website.
"I think they're going to play well, but we're not going to watch them. The manager is going to show us what they're capable of.
"All we need to do is to do our thing. Go onto the pitch, work hard, play with each other and after 90 minutes, we'll know what will happen.
"Of course, as a striker, you need to look at the defenders and know what you're going to do and as well the midfielders and goalkeepers.
"You look at everything altogether, but I think in general, your focus needs to be on the defenders so you know how to play against them.
"Of course, they can come out in different ways when you go to play, so I think it's very important that you look at the defenders and know what you're coming up against."