African All Stars
Leicester City striker Kelechi Iheanacho needs to wake up, says John Obuh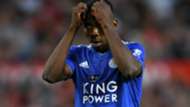 Despite his recent struggles in front of goal, former Nigeria U20 coach John Obuh has backed Leicester City forward Kelechi Iheanacho to get back to top form.
Iheanacho has established himself in the Super Eagles as a key player since his debut appearance against Swaziland in 2015 with eight goals in 23 matches so far.
However, his recent showing against South Africa had football fans question his ability after missing several chances as Nigeria were held to a 1-1 draw at the FNB Stadium.
Wary of the youngster's age and development, Obuh who guided Nigeria to the U17 and U20 Fifa World Cup finals in 2009 and 2013 respectively has called on national team coach Gernot Rohr to help Iheanacho shed his 'weight'.
"We all know Iheanacho is still a very good player, whatever that's causing him not to give his best for the Super Eagles needs to be solved by the coach and the psychologist of the team," Obuh told Goal .
"We can't advise the coach to drop him, otherwise it might cause more problem. He is still a young boy who needs to be encouraged.
"I think the best we can do in Nigeria is to encourage him, with time he'll get back to his top form.
"The advice I have for the handler of the national team is that he should work on him if he can reduce his weight because it can be because of his heavy size."
Since his arrival from the Etihad Stadium in August 2017, the 2013 Fifa U17 World Cup winner has managed four Premier League goals for the Foxes.
With just two goals in 11 top-flight matches this season for Leicester City, placed 10th in the English top-flight, the former Enugu Rangers and Kwara United gaffer believes the two-time Caf Most Promising Talent of the Year needs to do more than he is doing at the moment in training.
"Puel still believes in him and that's why he is featuring him either to remain on the bench or to play for some minutes," he continued.
"I think Iheanacho himself needs to wake up. He needs to wake up because at a certain point it might not be possible for anybody to look up to him anymore. He needs to wake up and do something that will make him be recalled once again.
"The way he is playing now is not the way we used to know him whether he gets close to his coach and choose a particular position that will fit him well.
"We know him as a supporting striker but he is not coming up as the best in that position anymore. I think he really needs to look at himself first and then it will help the coach to help him."
Iheanacho will hope to make his 12th Premier League appearance of the season when he and his teammates travel to Brighton for Saturday's league fixture against Chris Hughton's men.