Leeds United
Leeds United reveal baffling pre-season tour of 'war zone' Myanmar & horrify fans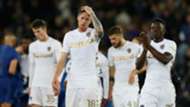 Leeds United have taken the unusual step of announcing that they will take in a post-season tour of war-torn Myanmar, to the disgust of fans.
The Championship club, currently 12th in the English second tier, will play matches against an MNL All-Star Team and the Myanmar national team, which is ranked 135th in the world, in May.
The move is a bizarre one, given that there is serious unrest in the country at present, with the UK foreign office advising against "all but essential travel" due to violent conflict in the region.
Myanmar has been involved in "ethnic cleansing" of Rohingya Muslims throughout the last year, with estimates from Doctors Without Borders putting the death toll in the first month alone at 6,700 people, per Al Jazeera .
Nevertheless, Leeds United - who aren't strangers to controversy following outrage over their new club crest earlier this season - plan to visit the country and will run football clinics with local children in addition to their fixture commitments.
"Myanmar is one of the fastest growing nations in South East Asia and is passionate about English football," said managing director Angus Kinnear.
"They have ambitious goals for grassroots and elite football development that we are delighted to be able to support.
"This tour gives us an opportunity to meet new fans of football who will hopefully support our journey back to the Premier League in the coming years."
A number of supporters have expressed their concerns over the move, despite Kinnear's confidence, with several pointing to the plight of the Rohingya people.
We are actually going on tour to a warzone. We have just gone full Leeds.

— ZL (@SupremeJansson) April 24, 2018
No concerns about the ethnic cleansing going on in Myanmar at the moment, no?

— Prof. F J Lewis (@mikeopinions) April 24, 2018
This is actually appalling, why can't we go normal places like Spain or Portugal

— (@laurinaaa_) April 24, 2018
I don't think I've ever been this disgusted to be a Leeds supporter. It

Going to a country committing actual genocide against its own people.

Appalling, Leeds.

— Mike (@LeedsMJ84) April 24, 2018
Leeds United have, perhaps optimistically, claimed that travel advice will be given to supporters soon and advised not to organise flights yet.