World Cup
Laudrup reveals inspiration behind iconic 1998 World Cup celebration
10:30 AM GMT+4
16/06/2018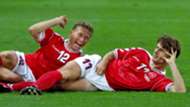 Brian Laudrup has revealed the inspiration behind his famous goal celebration for Denmark against Brazil at the 1998 World Cup in France.
The two sides met in the quarter-finals in Nantes and Laudrup levelled the match up at 2-2 in the 50th minute when he thundered the ball into the top corner.
He ran off in celebration before simply laying down and resting on his elbow, and Laudrup revealed the idea for the celebration came via his son. 
"It was not really prepared but, before the game, my son said to me 'Dad, you're so boring when you celebrate after the goals. Come out with something'," Laudrup told Goal.
"And I was a little inspired by Roberto Di Matteo. I remembered when watching Chelsea's games, he scored a goal and he lay down more or less in the same way. I thought he looked like he actually resisted it, because all the other players came and joined him.
"So, I said 'OK, if I score against Brazil, I will do something similar'. But I didn't tell anybody. I kept it to myself. And I scored, it was a pretty nice goal. So, that's why I did such a strange thing! People still talk about that, and still remember. It was good."
During the game itself, Denmark were huge underdogs going into the match, but they put up a brave fight before eventually being beaten 3-2. 
Brazil, who eventually lost 3-0 to France in the final, scored the winner through Rivaldo shortly after Laudrup's equaliser, but the Denmark legend looks back on the game fondly. 
He added: "For any footballer, and especially from our part of the world, playing against Brazil is always something unique. It's not where football was invented, but if you ask all of the players who they would like to play against in a World Cup, they will say Brazil.
"Playing in the quarter-finals of the World Cup against Brazil is very particular, it puts a lot of pressure on you until the final whistle of the game, but it also motivates and excites you. That was always absolutely fantastic.
"A lot of people said before the game that Denmark would lose easily. But we played really well. Sometimes, in our part of the world, people described us, because of our style of play, as the Brazilians of Scandinavia. I don't know if that's true. But playing against the real Brazil was absolutely incredible. And that's one of the memorable games that I played in at such a high level. There is no doubt about that." 
This current Denmark team qualified for the World Cup through the play-off rounds by beating Republic of Ireland and were then drawn in Group C alongside Australia, Peru and France.
Laudrup has been impressed by Denmark in the lead-up to the tournament, and he is 'quietly confident' about their chances in Russia.
He said: "I think we're in a new era. Because we had the same manager for 16 years, Morten Olsen and, today with Age Hareide, we have a new coach, with different ideas. There is a more direct way of playing, with a lot of pressure on the ball.
"I'm quietly confident about the World Cup. I think that, if we use the strength that we have, and we avoid injuries, we can get to the next stage. But then, and we all know it, it depends on luck and how we will be on D-Day.
"Hopefully France, who are favourites will maybe finish first, and Denmark will take second place and get to the next stage. And that would be a good achievement for Denmark."