Girona
Former Barcelona defender Marc Muniesa vows to make an impact in India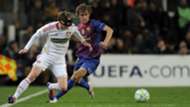 Former Barcelona defender Marc Muniesa wants to make an impact in front of the Indian fans at the ongoing LaLiga World tournament in Kochi. 
Now a part of Girona FC, he arrived in Kochi on July 25, two days ahead of his team's friendly against Melbourne City. The La Liga side will then take on Kerala Blasters on July 28.
"I had never been to India but I have ex-teammates from Barcelona, Sergio Juste and Edu Bedia, playing for FC Goa. I was following them during the league season," Muniesa told Goal. 
"We know that cricket is the most important sport here but football is growing step by step. We want to make a good impact here in front of the Indian fans. 
"We want to win the tournament. We will try to beat both teams. It will be difficult because we have been here only for a day."
The 26-year-old centre-back was once a highly rated teenager, linked to the biggest clubs in the world in the transfer market. But Muniesa's Barcelona stint was cruelly cut short by a knee injury.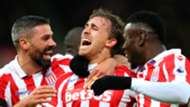 He then signed with Premier League side Stoke City before returning to his home country on loan. After a season with Girona, his move was made permanent this summer. 
"I started very young in Barcelona when I was 17 years old. It was a great experience for me under Pep Guardiola. I learned from him and some of the best players in the world like Lionel Messi, Xavi and Andres Iniesta. It made me understand football better," said Muniesa.
"I had an injury to my knee that was hard on me. I knew I had to step aside. It is really hard to have opportunities after my injury. I moved to Stoke City and it was really good. Premier League is an amazing experience.
"When I had my first contract at 21 is also when I picked up the injury. Football is full of moments like that. Football goes by quickly. If you are not available, then they will choose another player."