KPL
KPL slaps Muhoroni Youth chairman with 60-day match ban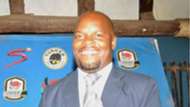 Muhoroni Youth chairman Moses Adagala has been banned from attending any Kenyan Premier League matches for the next two months.
Adagala was slapped with a 60-day ban on Wednesday by the Independent Disciplinary and Complaints Committee (IDCC) and a further Sh200, 000 cash fine for breaching KPL rule Rule 3.3.
The KPL rule states that, "Members and spectators are only allowed to attend or participate in the matches on condition that they observe the rules."
Adagala and Muhoroni supporters were found guilty of bending this rule when they invaded the pitch during a KPL match against Kakamega Homeboyz on March 26. As such, the Disciplinary body also slapped Muhoroni Youth with a fine of Sh400, 000.
The invasion caused the match to be stopped and later abandoned contrary to Rules 3.3, 3.4 (a) and 6.1 of the Rules of Kenya Football. 
KPL later awarded Kakamega Homeboyz the abandoned match. The ban came into effect on Wednesday, August 16,  2017.