KPL
KPL coach raises alarm over lack of a league title sponsor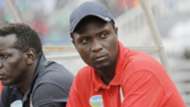 Thika United coach Nicholas Muyoti is appealing to the government to jump in and save the sinking Kenyan Premier League.
Muyoti has added his voice to calls by club captains to Kenyan Premier League Limited to find a lasting solution and end the sufferings players and coaches are going through.
KPL have failed to remit monthly grant to clubs after SportPesa pulled out as league sponsors last January, leaving clubs to devise authority measures including failing to pay players in time.
"At this age and time, it is sad to see what the main holders of soccer are going through. How will players perform in this kind of situation?
"As coaches, we expect 100% from the players, but at the moment we can't get that, this situation needs to be addressed now.
"GOK, FFK, KPL and clubs the ball is in your court. We had made very good strides as a country; you are taking us back to those dark days.
"Like any other Kenyan players, coaches and team managers need to pay their bills."
Thika United  are set to take on Posta Rangers in the KPL round of eight this coming weekend.