Transfers
Komphela: Kaizer Chiefs are done in the transfer market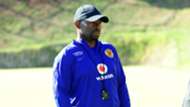 Kaizer Chiefs head coach Steve Komphela has revealed that the club is done in the transfer market despite making only three new signings. 
However, he said they will continue to monitor the market, saying that's why they have invited 19-year-old Arnaldo Gomes over for an assessment. 
Gomes is not the only player on trial. Darren Lurie and Jonathan Philippe are also hoping to impress the 50-year-old former Maritzburg United boss.  
"We are done in the market, but in football you can never stop searching. That's why we have a young trialist from Portugal. Top coaches in the world are never satisfied - neither is Mourinho or Pep. If anything comes and you think you can utilize, you take," Komphela told the media. 
The Amakhosi mentor also confirmed that Wiseman Meyiwa will get some game time in the upcoming season. 
At 18, Meyiwa has already represented South Africa at the U17 and U20 Fifa World Cup tournaments, and Komphela is excited and already looking forward to seeing him in action for his team. 
"We are going to unleash Wiseman Meyiwa this season. He's a top dog. He's played two Fifa World Cups at just 18; top dog. I've never seen a youngster at 18 playing two matches without errors. Wizo plays two touches. I'm getting goosebumps," he said. 
"We have Katsande and then put Wiseman next to him, then Chiefs has a future. 18 years old and he's so mature. You should see his maturity, how he manages the area, the radar, the intelligence, the passing. He plays two touches the whole 90 minutes. I'm getting goosebumps just talking about Wiseman Meyiwa. There's light in South Africa," Komphela added.