Manchester City
Kompany hoping for 'simple' resolution to contract situation at Man City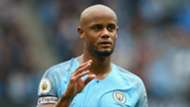 Vincent Kompany is still hoping to extend his stay at Manchester City but insists there is no pressure on the club to offer him fresh terms at this stage.
The long-serving defender is into the final year of his current deal with the Premier League champions.
If no extension is agreed, then the 32-year-old will become a free agent at the end of the current campaign.
Kompany, who has taken in a decade of loyal service at the Etihad Stadium, would like to prolong his association with the club but insists he will not be looking to rush City into talks.
A man who has won seven major honours during his time with the Blues told the Daily Mail: "First of all, the situation with City is very simple
"I am in a club where I feel so comfortable. 
"I have an extremely good relationship with every single member of the club so there is absolutely no need for me to constantly go on about a contract situation. I am in a comfortable situation with good people and we will make the decision when it needs to happen.
"The good thing is I feel comfortable on the pitch too. It's a trade-off as I get older. On the one hand, everything becomes easier because of experience. 
"My mind thinks faster and my age and experience means I can anticipate so many things before they are happening.
"But also, with age, I have come to learn that I do not want or need to chase every single ball down like I might have done five or six years ago. It is a trade-off but it allows me to be a centre-back in a great team."
Kompany has struggled with a number of fitness issues over recent years, with his game time being limited as a result.
He is, however, an important presence in the City dressing room and a man Pep Guardiola knows will deliver whenever called upon.
Five appearances have been made by the Belgian stalwart this season, including four Premier League starts, with the Blues looking to rotate a centre-half talent pool which also features John Stones, Nicolas Otamendi and Aymeric Laporte.