African All Stars
Kevin-Prince Boateng on Schalke stint ahead of his return to Veltins-Arena for German Cup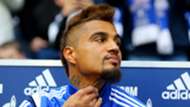 In December 2015, Kevin-Prince Boateng parted ways with German club Schalke 04 in a messy fashion. 
The Ghana international, now on the books of Eintracht Frankfurt, was initially handed an indefinite suspension by The Royal Blues for a "lack of mutual trust", before seeing his contract terminated seven months later. 
Ahead of Wednesday's return to Veltins-Arena for a German Cup semi clash, the 31-year-old looks back on his undignified departure. 
"It's the place I have thought about the most – it was like a punch in the face," Boateng told Sport1.
"It showed me the reality that everything is wonderful when it runs smoothly. And if not, you will be dropped.
"That was the [low] point for me.
"And I can be proud today that I came out of there and could turn all that power, sadness, energy and aggressiveness into something positive.
"Sometimes, it's just better to split up, because then you can make a fresh start."
Judging by their performance last season, both clubs are not doing badly at all this term. 
On Bundesliga table, The Royal Blues hold the second position, while The Eagles occupy the seventh spot. 
"Schalke has shown this year that the team plays at a very high level," said Boateng.
"Even if it's not always pretty, they know how to bring home [a win], or keep the points.
"That's what makes them outstanding.
"I hope we learned our lesson that a 2-0 lead is not enough."
Boateng, who joined Frankfurt last summer, has so far made 29 league appearances involving 25 starts and six goals for Niko Kovac's outfit. 
The Eagles are Boateng's fourth German club following spells with Hertha Berlin, Borussia Dortmund and Schalke 04.
He has also been on the books of English sides Tottenham Hotspur and Portsmouth as we all AC Milan in Italy.