Premier League
Keeping the dream alive - Oumar Niasse rises above the pressure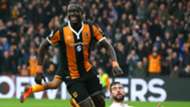 Oumar Niasse's Premier League dream appeared over before it had even begun.
Just 45 minutes of a preseason friendly was all Everton coach Ronald Koeman needed to see. The £13.5 million Senegal international was stripped of his squad number and banished from the first team squad, forced to train with the reserves.
He wasn't even given a locker. The 26-year-old would find an empty space, get changed and return his bags to the car during training. But then came a lifeline. Hull City's new coach Marco Silva swooped in and offered him an escape route, albeit one fraught with danger. 
Niasse had to take a leap of faith. Hull were rock bottom and hadn't won a game for more than two months. The KCOM stadium offered the chance of a reawakening, but one that appeared set to be short-lived. 
The Tigers were fighting their lives, never more than this past weekend when fellow relegation-battlers Swansea City came to town. The Swans were flying under their new boss, having won 15 points from 8 games – three more points than they'd claimed in the preceding 19 matches.
And Niasse found himself kicking his heels on the sidelines again. Overlooked, out of sight.
But after an hour, Silva needed a spark. And Niasse has delivered, rushing off the bench to score an impressive 95/100 on the Goal Pressure Index, presented by Sure and powered by Opta data, which provides the first ever system to measure and rate a team and player's performance under pressure.
The Goal Pressure Index uses more than 750,000 data points as well as factors including league position, point in the season and the opposition to calculate a rating out of 100 for every Premier League player every week.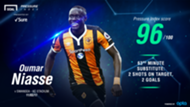 The relegation dogfight had remained deadlocked as it moved into the final 25 minutes, but everyone knew the game was far from up. 
These two clubs have conceded the most goals in the final 30 minutes of Premier League matches this season: Hull City (28), Swansea City (27).
The hosts just needed something different, something more, the spark they'd lacked for much of the season.
Niasse set the place on fire. Just six minutes after his arrival, he played a low pass into Abel Hernandez and set off running, taking a wonderful first-touch to take him away from the chasing Alfie Mawson before slotting a neat finish past Lukasz Fabianski.
And just nine minutes later, he was at it again, this time ghosting into the box to volley home from close range, earning perhaps Hull's most vital three points of the season so far.
"He feels that we believe in him," said Silva after Mawson's late consolation proved futile. And Niasse has repaid the faith by giving the club the belief in themselves.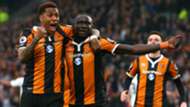 Niasse became is the fourth substitute to score twice in a Premier League game this season, and first since Fernando Llorente against Crystal Palace in November.
All three of his Premier League goals for Hull City have been as a substitute. His goals have kept his dream alive. Oumar Niasse may well have spent much of it on the periphery, but now he's ready taking centre-stage.
Elsewhere in the Premier League, Bournemouth's Josh King hit an impressive 93 on the Pressure Index after his stunning hat-trick gave Eddie Howe's side a 3-2 win over West Ham.
The top ten scorers of the weekend was dominated by Everton, with no less than five of the Toffees scoring high after their 3-0 defeat of West Brom at Goodison Park.
The Goal Pressure Index is presented by Sure, Official Partner of Chelsea FC, Everton FC and Southampton FC. Join the conversation on Twitter @Sure.