Super League
Kedah and Pahang looking to build on positive opening day results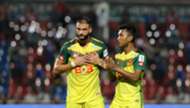 ---
 BY       OOI KIN FAI      Follow on Twitter
---
On the eve of Lunar New Year, the Malaysia Super League continues with Match Day 2 of the 2017 season with another six matches to be held on Friday evening.
Kedah will be hoping to continue on their positive start to the season after managing a creditable 1-1 draw away to reigning champions, Johor Darul Ta'zim (JDT) last week. The Red Eagles are looking to soar once again in their Darul Aman Stadium when they take on Sarawak.
Tan Cheng Hoe's team should once again rely on the creative outputs of Liridon Krasniqi and Baddrol Bakhtiar at the heart of their midfield to unlock a tough Sarawak side. On the other side, David Usop hopes that consecutive away matches would not take its toll on his players as they also start off well with a similar 1-1 result in their opening match against T-Team.
Meanwhile slightly down South from Alor Setar, Penang will welcome the visit of Perak at the Batu Kawan Stadium in what is an all Northern clash. Ashley Westwood didn't have the best of starts as his team succumbed to a two nil defeat to Selangor on opening day but will look to home advantage to bounce back in today's match.
Karl-Heinz Weigang still have work to do for his Perak team after a disappointing home draw against Pahang last time out. The wily German knows that his new-look side are still searching for the right combinations and this should be another chance for Vladislav Mirchev and Faton Toski to gel.
A rejuvenated Pahang led by Dollah Salleh will take on T-Team at the Darul Makmur Stadium looking to build on the encouraging 1-1 draw they achieved against Perak. After the sufferings of last season, Dollah's touch seems to work and they will have the service of Wan Zaharulnizam after his suspension last week.
As for Rahmad Darmawan, the departure of key figures has left the Indonesian with much to do with T-Team yet to find the slickness of movement that they displayed towards the back end of last season. Much will depend on the experience of Dilshod Sharofetdinov in midfield to help shore up both attack and defence.
Kelantan will finally get their 2017 campaign underway as they face PKNS at Shah Alam Stadium. The Red Warriors' opening match had to be postponed due to waterlogged pitch and Zahasmi Ismail will be looking to unleash Mohd Ghaddar once again in the Super League.
After the fanfare that surrounded their participation in the league, PKNS got off on the wrong foot with an opening day defeat to Felda United. Coach E. Elavarasan will be hoping that home comforts will kick-start their season with his strikeforce of Safee Sali, Patrick Ronaldinho Wleh and Lucas Espindola likely to get 90 minutes to find their rhythm.
Completing the fixtures for Round 2 are the Selangor v Melaka United and JDT v Felda.