Mexico
Juan Carlos Osorio explains Tecatito omission, Cuernavaca trainings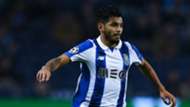 Porto winger Jesus "Tecatito" Corona missed out on a call to the Mexican national team for World Cup qualifiers this month against Costa Rica and Honduras, an omission that seemed to be because of injury.
But the plot thickened on Sunday, when Tecatito started and smashed in a lovely volley in his club side's draw with Setubal.
Meet "Mexican Messi" Diego Lainez
Mexico coach Juan Carlos Osorio clarified that while Corona and Frankfurt midfielder Marco Fabian both were able to return to action this weekend, El Tri agreed they'd be best served staying with their clubs to fully recuperate.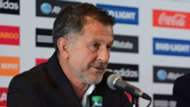 "Every one of the players we've brought in are in good form, and we should focus ourselves on their possibilities and not those who aren't here," Osorio said.
"I shared messages with Jesus Corona and it's worth saying that he like Marco Fabian, fortunately they played for their clubs. Practically, though, it was something already sorted out. We had an agreement with their teams to give them the chance to recover, and unfortunately because of that they're not going to be here."
The team begins work Monday in Cuernavaca, Morelos, a city around 40 miles south of the Estadio Azteca in Mexico City. Osorio has spoken about the possibility of working there before. The capital's high elevation, usually thought of as an advantage for Mexico, can be just as difficult for Osorio's European-based players to deal with as for the visitors. Still, moving the sessions wasn't something Osorio said he thought of on his own.
"We analyzed it and decided because of the suggestion of the players themselves," Osorio said. "It's proven that the strongest effects of altitude occur at 72 hours, and this is what was happening. We think that with this decision the team is going to be better trained and prepared and we're going to be able to play at a rhythm that hopefully gives us every chance to win."
Mexico faces Costa Rica on March 24 in the Estadio Azteca before traveling to Port of Spain, Trinidad and Tobago to take on the Soca Warriors on March 28.