United States
Jermaine Jones and Sacha Kljestan depart U.S. camp
10:56 PM GMT+4
30/01/2017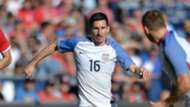 Jermaine Jones and Sacha Kljestan have left United States national team camp, U.S. Soccer has announced.
No replacements will be called up before the team faces CONCACAF rival Jamaica in a friendly on Friday.
Jozy Altidore no fan of U.S. national team's one-striker set up
Jones will not be available for the next U.S. World Cup qualifier against Honduras on March 24 due to yellow card accumulation. Because of that, U.S. head coach Bruce Arena has allowed Jones to rejoin the LA Galaxy for the team's preseason while he looks at other players.
Kljestan returns home as he and his wife are expecting a new baby in the next week.
Jones played just the first half in the USA's 0-0 draw against Serbia on Sunday before being replaced by Galaxy teammate Sebastian Lleget. Kljestan went 77 minutes before Benny Feilhaber replaced him. Both substitutes are prime candidates to start against Jamaica, with Dax McCarty also a possibility.