Super League
Four teams confirm eligibility for 2018 Super League season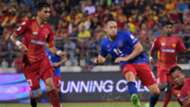 The 2018 M-League season will less than five months time but at this point in time, only four teams have met the conditions required to participate in next season's Super League campaign.
Rules dictate that from the 2018 season onwards, any teams or clubs that are competing in the Super League requires an approved club licensing certification.
The four teams are Johor Darul Ta'zim (JDT) who had their license renewed while Selangor, Pahang and PKNS FC have all successfully met the requirements for the certification.
The club licensing rule requires adherence of many factors including infrastructure, administrative, legal and financial criteria.
The certification goes on a yearly basis which means that even those approved clubs will have to ensure that they maintain those criteria throughout the years.
Of course there's still time for the others to make the grade and join these four teams in the Super League next season but the clock is definitely ticking on them.