African All Stars
Jamilu Collins: Who is the Super Eagles new boy replacing Elderson Echiejile?
10:06 PM GMT+4
24/08/2018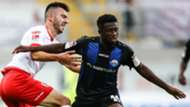 ---
COMMENT    By Solace Chukwu     

Follow on Twitter
---
First a furrow of the brows, then a blank stare, then a rush to Google.
That was largely the reaction to the name 'Jamilu Collins' as it was read out at the press conference which announced Nigeria's squad for the Africa Cup of Nations 2019 qualifier against Seychelles.
The 24-year-old is the latest member of the Super Eagles, and a legacy of a long search for the solution to a problem position: left-back.
Born in Kaduna, the defender earned his professional stripes with Croatian side Rijeka, whom he joined at the age of 18. After spending some time in their youth ranks, he bounced around on loan in the Croatian second division with NK Pomorac and HNK Sibenik, before finding his way (via another loan move) to the top division with NK Istra.
Rijeka, however, were unconvinced, and after another brief spell with Sibenik, they let him go at the end of his contract in 2017.
Their loss would be the gain of German club Paderborn, then in the third-tier of German football, who promptly snapped him up. With his strong performances from full-back, they won promotion to 2. Bundesliga last season.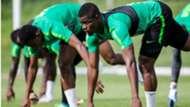 His efforts have apparently not gone unnoticed, and he will be expected to provide a lasting and final replacement for Elderson Echiejile, who has held the left-back spot for over half a decade.
While the mere fact that he is naturally left-footed (unlike Bryan Idowu, who filled in at the World Cup) and younger than Echiejile are points in his favour, Collins is a strong contender in his own right. A physical player whose aggression will serve him well in African football, he is also capable going forward.
He possesses reasonable speed and favours low crosses along the turf, either to the near post or across the face of goal. His frame means he is not easily outmuscled, and he can go shoulder-to-shoulder with most players, whether in a defensive or offensive capacity.
If there is a worry about Collins, it is that he can be sometimes too aggressive. However, it is a welcome change to have a natural wide option to stretch teams. If he takes to the challenge of international football, Rohr may well have scratched one of his biggest itches.