Liverpool
'It's up to the referee' - Neymar diving reputation no concern for Liverpool & Robertson
11:10 PM GMT+4
16/09/2018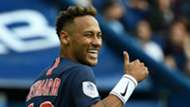 Liverpool defender Andy Robertson insists that he is more worried about Neymar's talents on the ball than his propensity for taking a tumble ahead of the Reds' Champions League clash against Paris Saint-Germain. 
Tuesday's encounter at Anfield sees two of Europe's most fearsome attacking units face off in a spectacular opening to the competition's group stage. 
Both Liverpool and PSG have started their league seasons in perfect fashion, moreover, winning all five games with a goal tally of 11 and 17 respectively. 
Neymar will be the forefront of the Ligue 1 leaders' offensive efforts on Merseyside, and it is a challenge that Robertson believes will be a tough one - even if he is not swayed by the forward's reputation for going down easily in the box. 
"How will Neymar be received at Anfield? That's not up to me, it's the fans. What I do know is that he's a world-class player and we need to be wary of him," Robertson explained to reporters. 
"His skills speak for themselves. Yeah, people say he goes down too easily, but that's not up to us. It's up to the referee to decide. We'll stay away from that. 
"For us, we've got to concentrate on the qualities. Unfortunately for us, he has a lot of them. It's one player that we'll have to be wary of.
"The bad thing for us is that they've got quite a lot of players that we'll have to be wary of. On the other hand, a good thing for us is that we've got a lot of players that can cause them problems."
Saturday's 2-1 victory over Tottenham saw Liverpool keep track with fellow pace-setters Manchester City at the top of the table, both sides boasting a flawless 15 points so far in 2018-19. 
Robertson described the Spurs game as his side's "best performance all-round", but warned it was too early to draw title conclusions. 
"We played well against West Ham and the next three weren't our best but we managed to get results. And that's what you need to do in this league," he added.
"I thought today we've come to a place where we've struggled last season and [against] a team that finished above us.  
"I think it's still too early for a [title] statement or whatever. But we've just got to keep doing what we're doing, winning games that are put in front of us.
"[The Spurs match] was a tough task for us, coming back from international breaks when all the lads have traveled the world. So to come back and put a performance like that is very pleasing, especially when it's the first game of the weekend. Now we can sit back and watch the rest of them."