Indian Super League
ISL 2018-19: Steve Coppell - Early lead turning point for ATK
10:38 PM GMT+4
26/10/2018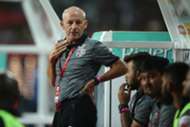 ATK head coach Steve Coppell was a happy man after watching his team defeat defending champions Chennaiyin FC 2-1 to earn their first Indian Super League (ISL) win of the season at home.

The Englishman believes that his team is slowly taking shape and the players were settling in well. Coppell went on to laud the individual talent in the team as well as the collective effort.
"Winning at home makes you feel good. The first two games (at home) we lost, so this is a big win for us. The team is still evolving and taking shape. The more we win the more we can analyse our game. The combination is slowly forming.
"With 18 games over four months, the team will change of course. We need players who can step up when required. We have great experience in (Kalu) Uche, (Manuel) Lanzarote, Gerson (Vieira), Everton (Santos) and (John) Johnson. Both full backs had a great game tonight. Everyone played a part in tonight's performance."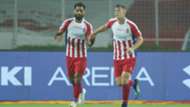 The early lead was very important in shaping the course of the match according to Coppell and the team's response to conceding the goal was more pragmatic, with the prime focus on preserving the lead.
"Of course early lead was turning point. If you go ahead 2-0 so early it is natural to protect the lead. When they got their goal we shrank a little bit. We became more defensively focused." 
There are big tests ahead for ATK and concatenating a string of victories at this phase of the tournament is crucial. The former Manchester United winger believed that the team will have to work on keeping possession as they gear up for a tough fixture against Bengaluru FC.
"We have a big game coming up against Bengaluru. They are a top side. I'm looking forward to that.
"We need to improve and retain the ball more. I hope we get a better grasp of what is required to be successful. It is a short marathon. Every game is critical. If you win three-four games on the trot, it will be a great advantage."