Mumbai City v Chennaiyin
ISL 2018-19: Raynier Fernandes brings smile to half-filled Mumbai stadium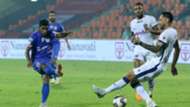 Long after the slender crowd had dispersed, just behind the players' dugout, a motley crew of fans were staring eagerly at the giant screen installed at the corner of the field. These were neither the ones wearing club jersies, nor they had any curated chants. The security guards were irate. "'Yeh public ko ghar bhejo' (Send these guys home)," they screamed. But this was not a group easy to persuade, perhaps because they consisted mostly of teenagers. 
They were all supporting Raynier Fernandes and the local boy scored the opener and ran the show in his club's 2-0 win against defending champions Chennaiyin FC. 
And when Fernandes' name would come up during the post-match presentation ceremony - where he won the emerging player award -  they would bring down the roof. It would be safe to assume that no local footballer has enjoyed that kind of adulation playing for a star-studded Mumbai team since Steven Dias, Abhishek Yadav et al donned the Mahindra United jersey more than a decade back. 
"Yes, they are a bit loud at times," Raynier told Goal after the match, sounding almost apologetic. "But they must be proud to see someone from Mumbai win the match for them."
It's hard to disagree with him. While the outfit has bagged 16 points in their last six matches, the city has looked the other way. The attendance once again was lacklustre, but their on-field performance compensated for it. And it was the former Mohun Bagan man in the middle who epitomized the team's resurgence.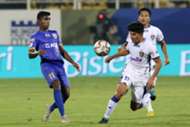 He should consider himself lucky not to have his goal-scoring shot saved by Sanjiban Ghosh but even excluding that, it was a lively performance where he carried the ball with elan and at times outshone Anirudh Thapa.
Mumbai's six-match unbeaten run - their longest in history - has come on the back of a resolute defence and three potent foreigners upfront. At a glance, it seems 10 among the eleven places in the starting line-up have been cemented with only the 'soft-spoken Indian box-to-box midfielder' position up for grabs. The competition there is tough, with Mohammed Rafique and Milan Singh.
Raynier, however, can see himself overcome these immediate hurdles and stay long-term at the club. "I have played in Kolkata for a few seasons and have played in the Kolkata derby and all. But it's a different feeling to be in your city, to be here. This is my second season here (he played a season for Air India) and my family is also happy," says the player who can be spotted booking cabs outside the stadium after the matches for a quick dinner at home. 
This probably highlights the importance of having at least one local player in your squad, which is something the ISL should consider imposing on the clubs. When the team is based in a city and is yearning for acceptance among the local fans, giving an avenue for a local player to achieve his dreams can only be a good thing. 
Standing in front of the police barricade near the team bus, Sameer Devdare echoes that sentiment. 
"I have seen him roam around in Mumbai so many times," claims the 21-year-old college student from Malad, who stays almost 20 kilometres away from Raynier's home in Dadar. "It's such a good feeling to see him score in two competitive matches."
Mumbai City's slogan of "Apun ka City, Apun ka Team" (My city, My team) has not found many takers, but the club management can find comfort from the fact that at least a local lad's success has given them traction in some corners of the metropolis.