Indian Super League
ISL 2018-19: Pradhyum Reddy - Very little time to prepare for FC Goa game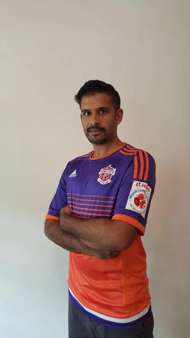 Under pressure, FC Pune City face in-form FC Goa in an Indian Super League (ISL) clash on Sunday at the Jawaharlal Nehru Stadium, Goa.
Pune, who recently sacked coach Miguel Angel Portugal after a disastrous start to their season will be managed by interim coach Pradhyum Reddy on Sunday. They will hope to register their first win of the season against mighty Goa.
Ahead of the important clash, the newly appointed coach said, "We had very little time to prepare for the FC Goa game and a lot of games coming up. Our main focus is on that rather than anything else at the moment. 
"It's always a challenge when you're playing against FC Goa, especially in the last one and half seasons. We came in a similar situation here last year where if Goa had picked up points they would go on top of the table and they were in free-flowing scoring form, but we got the result that we needed. We even got a clean sheet, won 2-0. We got a similar squad as last year. So if we get back to the basics and fix the issues that we have, we could try to grind out a result like we did last year."
He further added, "It's a good game to have. It (FC Goa) is a team that likes to attack. One of our strengths is the attacking players that we have and we know that Goa when they choose to attack in the formation that they play, they do leave the opposition with the opportunity to attack as well. In the last game, Mumbai (City FC) had a few chances, but Mumbai didn't capitalise on them. It's actually from Mumbai's corner that Goa scored their first goal. 
"We have been playing well in patches like in the first 15 minutes of the game up until the 30th minute of most games. We just got to make sure that it's not just a 15-minute spell that we play in the course of 90 minutes and in the moments that we are not playing at our best. We got to make sure that we don't concede. Step by step, we have to make it through to the half-time without conceding a goal."
Pune have some of the finest strikers in the league this season yet they have managed to score just one goal in their first three matches.
Backing his players, Reddy said, "I can't comment on the changes in personnel in the last three games because I wasn't with the team at the time, regarding the changes. Some of them could have been injuries of keeping in mind that we have back-to-back games.
"It's not uncommon for coaches to change players when you have got a positive result. We are obviously looking to make some changes. At the same time, we have to bear in mind that we do have players who do have the capability to win games. 
"We do have strikers who can be top contenders for the Golden Boot or top assists in this league. It's just a matter of them finding form and us giving them the supply line so that they can score more goals."
On asked how he motivated the players after the early setbacks, the former Bengaluru FC assistant coach said, "It's not an easy task to pick up the boys in this kind of a situation, but one of the things we did is, we looked at the video of last December when we came here. We looked at the highlights of that game - the way we defended as a team and the way we attacked as a team. Although we won the game 2-0, we probably had chances to probably win by three or four goals in that game. That gives us a little bit of boost and we know we can play that way."