NorthEast United v ATK
ISL 2018-19: NorthEast United's Eelco Schattorie - Biggest concern is fatigue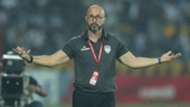 NorthEast United are on the verge of achieving their best ever points tally in the Indian Super League (ISL) when they take on ATK at the Sarusajai Stadium in Guwahati on Saturday.
They have 19 points currently and their best ever tally was 20 in the season two of the ISL back in 2015. They are third on the table after a splendid start to the season. 

However, Head coach Eelco Schattorie disparaged all notions that the ATK game will be easy after they won the first leg 1-0 in Kolkata last month.

He said, "First of all, ATK have really good players. They had a slow start and so you cannot compare the first leg with the current match. There is a difference between a team in flow and team who is losing. Comparing the games is difficult. The only thing I know is that this is a really good squad. There is a lot of football quality. They have bench strength. A player like Eugeneson Lyngdoh comes off the bench and that says a lot about the quality."

With 19 points from ten games, the Highlanders look alright to claim a stake for the playoffs for the first time. "From my side, you have to be careful that you do not become a victim of your own success. Last game when we were playing against the league leaders, we were disappointed that we lost points but we received too many criticisms like bad defence and goalkeeper. We have to consider that we have the lowest budget.

"At this moment there are 17 or 18 players from where I can pick the team. We have some injuries. We had four games in a row in a short time. The fatigue plays a huge role. I am worried that my biggest opponent tomorrow is fatigue. My goal is to stay in the top four but it is a huge task," the former East Bengal manager said.

NorthEast United play their fifth game in 16 days but Schattorie doesn't believe in squad rotation per say. 
 
"I am not against giving chance to certain players. You cannot just give players a chance. You have to show in training. I am a coach who does not like to make too many changes. Success comes from stability."
 
Right-back Provat Lakra, who has been impressive in their last two outings, has been ruled of action at least until the ISL resumes after the Asian Cup in January.
 
"Provat is out for injury. Hopefully, in the second part of the league, he will be back. If he has a fracture, I won't know how long it will take for him to come back. I am not happy at all. He is a boy for whom I care a lot. For someone who is coming from the I-League, he was slowly becoming a regular given that they don't play with the best teams in I-League," he concluded.