Indian Super League
ISL 2018-19: John Gregory disparages Chennaiyin defence as Achilles' Heel
10:24 PM GMT+4
26/10/2018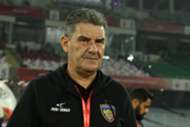 The defending Indian Super League (ISL) champions' winless run continued into their fifth game after they let ATK take all three points at the Salt Lake Stadium in a 2-1 defeat on Friday.

Head coach John Gregory was disappointed with the defensive mistakes and believes that the team's performance deserved a better result 
"It is exceptionally frustrating. Genuine defensive mistakes which I expect not to happen. We brought in Eli (Sabia) in the team and he has done well so far. We did some changes in the team. The first goal was comical. ATK couldn't have asked for a better start.

"We started well actually. Even after going down by two goals, we played well. We then game back when (Carlos) Salom scored a great goal. Football can be a cruel game.

"It's a fine line between success and failure. Today we kept the ball, out-passed and out-ran them. But it doesn't matter. They got the three points. 
"My players kept passing and creating chances. Karanjit (Singh) hardly made any saves. I am not disappointed with any players but the way we defended in the first fifteen minutes (is not good)." 
The former Aston Villa manager wanted the players to improve their decision making going forward. Gregory also had positive words for youngster Laldinliana Renthlei, reckoning that he has found a gem of a player in him.
"The first goal was lack of concentration. Football is about decision making. Players when they are in possession they must make the correct decision on whom to pass.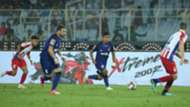 "Laldinliana didn't even play an
I-League
 match last time. He was fantastic I felt. He was a big plus point for us. There were several positive points for us tonight."
Henrique Sereno's departure and injury to Dhanpal Ganesh has changed the team's approach and affected the defensive stability which was a key reason for Chennaiyin winning the ISL last season. But Gregory is confident that his players will turn things around very soon.
"If you see the mistakes we did for the first two goals. If you don't make those mistakes you win. Last season we had three foreigners in the backline and they did exceptionally well. We built the team around them.

"We won the ISL because of our defence. We didn't score many goals but didn't concede either. This season it has been an Achilles Heel. 

"But overall, I'm very pleased with the game from my boys. We will pick ourselves up and start winning games soon.
"We lost two important players from last season, Sereno and Ganesh. This forced us to change our approach. You have seen how ATK play, it is absolutely no nonsense. We can't play like that. We want to play good football."