Indian Super League
ISL 2018-19: Miguel Portugal taunts Delhi Dynamos - 'At Pune City, we don't have the worst budget'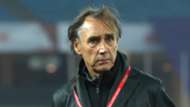 FC Pune City head coach Miguel Angel Portugal believes his team can top the league table in the fifth edition of the Indian Super League (ISL)
The Spanish coach, who left his position as head coach of Delhi Dynamos in the summer, had bemoaned his former club's transfer budget . At his new club, Portugal feels he has managed to make use of the transfer window much better,
The Stallions will take on the Lions in their first ISL match of the new season at the Jawaharlal Nehru Stadium in Delhi on Wednesday. 
"For me, it is a pleasure to be back in Delhi but now I am the opponent. I had good memories in Delhi," Portugal said. 
"Last season, we had the worst budget (at Delhi Dynamos). And now in Pune, we have a (better) budget.  It is very important that you have the best budget and you buy the best players.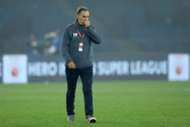 "At Pune (City), we don't have the worst budget so we can fight for the first position. It is very difficult to get the first position, right? Our objective is to maintain the same position (from last season) or better."
Midfielder Marcos Tebar left Pune City for Delhi Dynamos for the fifth season of ISL and on his departure, the newly appointed coach joked, "He doesn't want to play with me (laughs). I came to Delhi, he went to Pune. I came to Pune and he went to Delhi.
"He played for me at Castilla at Real Madrid when he was 18 years old. He is a good player," the former Real Madrid Castilla coach added. 
Portugal prefers possession-based football with an intent to score goals. He will be up against Josep Gombau's team that prefers a similar style of play.
"I think it will be a good match. The possession is very important. But what is more important is finishing. Possession should be to win the match. My philosophy is to have the ball in the right area and to get to the (dangerous) areas and finish."